Chapter 2: 1910 to 1935
At the Installation Ceremony in January 1910, W.Bro. J.H. Hartley was installed in the Chair as W.M. he being the oldest P.M. of the Lodge, to celebrate the 50th Anniversary of the Lodge. At the May meeting, a letter from Mr R.B. Barrett, Agent a Skipton Castle, was received stating that Bro. Lord Hothfield had pleasure in placing the Baronial Hall and other rooms at the Castle at the Lodge's disposal in which to celebrate the Jubilee of Craven Lodge. It was also announced that the Lodge had been honoured by the appointment of the Chaplain, Bro. Rev. Frederick W. Patten as Provincial Grand Chaplain.
Provincial Grand Lodge granted the Lodge a Dispensation to meet in the Baronial Hall, Skipton Castle and also to appear in Masonic Regalia in the Parish Church on 24th June, 1910. After the Service, the Brethren were re-conducted in procession to the Castle for the Lodge closure and were then photographed in the Castle grounds.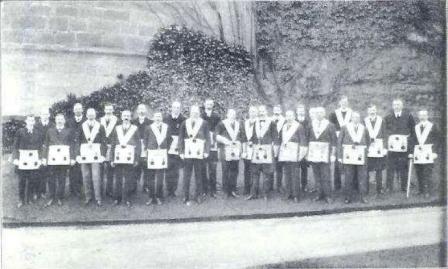 Many Lodges, including Craven, did not appoint a Director of Ceremonies in the 19th Century. Craven Lodge first appointed one in January 1907, but it was not until 1912 that Grand Lodge passed a Resolution that Rule 129 of the Book of Constitutions be altered to read as follows: "The regular Officers of a Lodge consist of the Master and his two Wardens, a Treasurer, a Secretary, two Deacons, an Inner Guard and Tyler. The Master may also appoint a Chaplain, a Director of Ceremonies, an Assistant Director of Ceremonies, an Almoner, an Organist, an Assistant Secretary and Stewards".