Chapter 6: Masonic Charities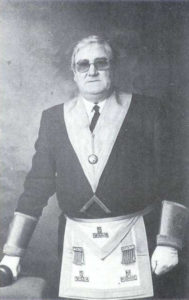 No history of Craven Lodge would be complete without • some reference to this important aspect of our activities which should be of concern to each and every Member of the Lodge. In former times, it was customary for the Charity Representative to propose a Toast to Masonic Charities at the Banquet following the Installation and a member of the Charity Executive would, in the course of his response, give details of the work being undertaken by the Committee. Some years ago, this procedure was discontinued and instead an exposition of Masonic Charities is given by a Member of the Executive at the December Lodge Meeting when Lodge Members are at liberty to ask questions or raise points of interest which require further elucidation, as seemingly so few of us are as knowledgeable about Masonic Charities as we ought to be.
Whilst the following list shows the quinquennial totals of monies raised by the Lodge towards Masonic Charities, our contributions up to 1978 have been mainly applied for the benefit of the following organisations:
The Royal Masonic Institution for Girls
(RMIG) whose objects were "to educate daughters of Freemasons who from circumstances arising from death, illness or misfortune of either or both parents, are reduced to a position requiring the benefits of the Institution"
The Royal Masonic Institution for Boys (RMIB) whose objects were similar to those of RMIG but in respect of sons of Freemasons, and indeed a nine year old son of a brother of Craven Lodge was accepted for education by RMIB from June 1908 to February 1914 and he was joined by his younger brother from January 1910 to May 1915
The Royal Masonic Benevolent Institution (RMBI) which provides Annuities for elderly Freemasons, their widows, spinster daughters and spinster sisters. The RMBI also runs 14 residential homes for the ambulent elderly in various parts of England and Wales.
(d) The West Riding Masonic Charities Ltd. (WRMC) which provides relief for Freemasons, their widows, spinster daughters and spinster sisters. We have reason to be grateful to this Charity because over the years 3 widows of Craven Brethren have received annual grants, one of whom is now in her ninetieth year and has been a regular beneficiary since 1953.
More recently, the Masonic Charities have been re-organised and the newly formed Masonic Trust for Boys and Girls now unites RMIG and RMIB. In November 1979 the Masonic Foundation for the Aged and the Sick was established and from 1979 to 1986 Craven Lodge concentrated most of its Charity contributions towards this Foundation. Our Residential Home at Connaught Court, Fulford Park, York which was opened in 1971 directly benefits from this Charity. Freemasonry has also been responsible for funding the Royal Masonic Hospital in London which has been the subject of much controversy in recent times. Steps are now being taken to ensure that our charitable work be extended to embrace non-masonic as well as masonic causes within the Province but Brethren are free to nominate which particular Charity they wish to support. Whilst Craven Lodge was formed in 1860, it is interesting to note that the Charity Committee of the Provincial Grand Lodge of the Province of Yorkshire West Riding held its first Meeting in the same year. Apart from being the same age, we have a direct link with the Committee through W. Bro. Frank Driver JP, who was W. M. of Craven Lodge in 1912. He achieved theeat distinction and honour of serving as Vice Chairman 192T- -_gr 1931 and Chairman 1931-32 of the Provincial Grand Lodge Charity Committee. W. Bro. J. H. Armistead was also co-opted as a Member of the Committee 1976 and 1977. From time immemorial, Charity has been one of the cornerstones of Freemasonry and its significance is amply illustrated to all new initiates through the Address in the N. E. Corner. We must not lose sight of this continuing commitment throughout our masonic career, for we are reminded in the Volume of the Sacred Law…. "and now abideth Faith, Hope and Charity and the greatest of these is Charity". The Charity Committee has indicated that it should be impressed on Junior Brethren that providing their financial circumstances reasonably warrant, it is at least hoped if not expected – that they will qualify for Life Membership of the Committee before attaining the Chair. This means that a Brother shall have subscribed as a member of any Lodge in the Province a total stated sum (currently £300 including tax from covenants) to Masonic Charities. As will be seen from the records, the number of Life Members of Craven Lodge is at long last gathering momentum, and this is a welcome harbinger for the future.
List of Amounts contributed to Masonic Charities
(Unfortunately no records are available for the years 1860-1907)
| | |
| --- | --- |
| Years | Amount |
| 1908 -1912 | 235 |
| 1913 – 1917 | 326 |
| 1918 -1922 | 763 |
| 1923 – 1927 | 694 |
| 1928 – 1932 | 772 |
| 1933 – 1937 | 544 |
| 1938 -1942 | 624 |
| 1943 – 1947 | 700 |
| 1948 -1952 | 834 |
| 1953 – 1957 | 561 |
| 1958 -1962 | 929 |
| 1963 -1967 | 1745 |
| 1968 -1972 | 1957 |
| 1973 – 1977 | 2475 |
| 1978 -1982 | 4172 |
| 1983 -1986 | 6141 |
| | 23472 |